I am really surprised at the way some people are reacting to the incidents happening since January 26, 2021. Did they not see this coming? They did! They are pretending to be surprised. They are acting like little girls who act surprised on a "surprise party" for which they themselves had approved the list of attendees. Every political party, leader, person knew what was coming. I am not saying this now after the violence that happened on Jan 26, I wrote a complete article about this as soon as the initial talks between the protesters and the government ended in an impasse. You should definitely read "Farmers protest heading towards a disastrous end" that I wrote on December 5, 2020. Excerpt:
"Unless something is done, this year is going to end exactly like it started with massive riots. People would tolerate blockades for a while, and then people supporting the bill would come on streets and get the blockades cleared by themselves. Of course it would be very easy to put all the blame on some Kapil Mishra and of course it is just normal to call BJP anti-minority. No body asks what events lead to 2002, everybody just blatantly says riots happened. Twenty years down the line, no body would ask why riots in 2020 happened, everybody would blatantly say riots happened. And BJP was responsible for them!"
And this is not the end, the worst is yet to come if this blackmailing in the name of illegal protest doesn't end right away without any ifs and buts. You now already see locals starting to fix the problems on their own. This will turn ugly in no time. Of course it is extremely easy to rubbish them as BJP goons, like considering Deep Sidhu as a BJP agent now.
It is hilarious how pro-anarchy brigade is trying to build its escape plan on a picture of Deep Sidhu standing along side PM Modi and Sunny Deol.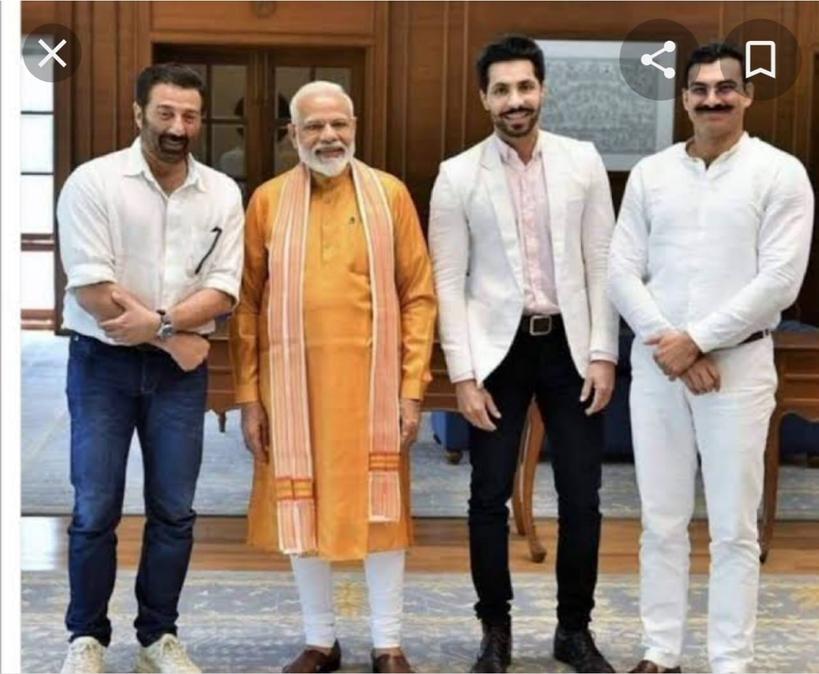 There is no question about it that the person standing in the picture is Deep Sidhu. It is true. But this is a picture taken before the 2019 general elections, when he, Deep Sidhu campaigned for Sunny Deol. What is also true is that Deol and Sidhu have been on opposite sides since then. Below is a video from Sept, 2020 where he is literally abusing Deol. This is one of the many instances where he mentioned that he regretted campaigning for Deol.
Not only him, but Deol also explicitly criticized Deep Sidhu for his agenda in the name of farmers. Below is one of the Deol's statements in early December last year:
"The MP has now come out with a statement in Hindi on social media platforms claiming that the "issue was between the government and the farming community and that some people were exploiting the situation." Deol referred to Deep Sidhu saying "he was with me during my campaign but is now being driven by his own agenda". "I have nothing to do with his activities," he added."
At the very same time, Congress leaders including Cabinet Minister Sukhjinder Singh Randhawa rebuked Deol stating :
"Deol has started targeting those people who are standing by agriculturists in their need of the hour"
The irony is that the BJP leaders including Deol and the national agencies have been mentioning time and again that there were anti-national forces at play, but the pro-anarchy brigade kept on using people like Deep Sidhu. You must have definitely heard statements like "BJP considers farmers as anti-national, terrorists and Khalistanis" Haven't you?
As a matter of fact, not many people outside Punjab even knew who Deep Sidhu was, let alone his ideology, before the pro-anarchy brigade made him a star. Some might be tempted to say that it is only me who did not know him, but if you are thinking on this line please watch this interview of his with the evergreen Barkha Dutt:
According to her, a lot of people wanted to know who this person is and what kind of a farmer is he who speaks English (you must have heard the controversy – how can a farmer speak English that too in an artificial accent with rolling r's). In this thirty minutes interview which was aired on November 28, the so called "farmer" had already expressed his views on federal structure and geo-politics along with his sympathies for Jarnail Singh Bhindranwale. But even after this, the pro-anarchy brigade in India kept on doing interviews with him and continued making him a star. And every time somebody from the ruling dispensation said that there are anti-national forces at play, the pro-anarchy brigade rubbished the claim stating that BJP sees traitors, terrorists and Khalistanis in farmers.
That was not the only one. At around 7:00 minutes in the video below you can see a crucial member of the pro-anarchy brigade, Mr. Rajdeep Sardesai (who recently floated a fake news about police shooting a farmer, which would have definitely created a lot of damage if the accident was not caught on a CCTV camera) interviewing him and giving his views time and space on a national television.
There are many more such interviews, different pro-anarchy brigade members even after knowing his thought process continued to air him, without any gumption. You can have a look at Print's interview here. Once the National Investigation Agency (NIA) started summoning people like Deep Sidhu, it was called that BJP is using government institutions to crush the protest. The very same pro-anarchy brigade who now is trying to connect him to BJP was more than eager to float this narrative. You could also have a look at one of the India Today's interviews with Sardesai as a host and Deep as a guest explaining how government is using NIA to suppress the voice of "farmers".
While Deep Sidhu has proved himself to be anti-national without a doubt, and the Indian Legal system should make an example out of him. But he is just a cover up, a escape plan, the tip of an iceberg. They are the ones who actually did the heavy lifting, if it weren't for them, Sidhu would not have managed the large support that he actually got.
Have a look at some of their provocative videos:
The fact is that it was never a protest for the farmers, it was and is only a protest against the government. If it were about the three farm laws, the protesting leaders would have discussed the acts and the points in the acts instead of asking the complete repeal of the three acts. The goal is to dismantle a national government who is willing to stick its neck out in order to bring difficult reforms. The goal was and still is to create anarchy in the country, assemble large crowds and create a perception that the government should step down. It does not matter who is who and who does what, what matters is who can gather the biggest crowd. The one in white turban with the mic, addressing this crowd of "farmers" is Deep Sidhu. There were many like this one.
Thanks for reading. If you liked the article please do share it with your friends and family. And please do read and make your friends read the three farm bills. A short summary is here : Farm Bills 2020
Also read: